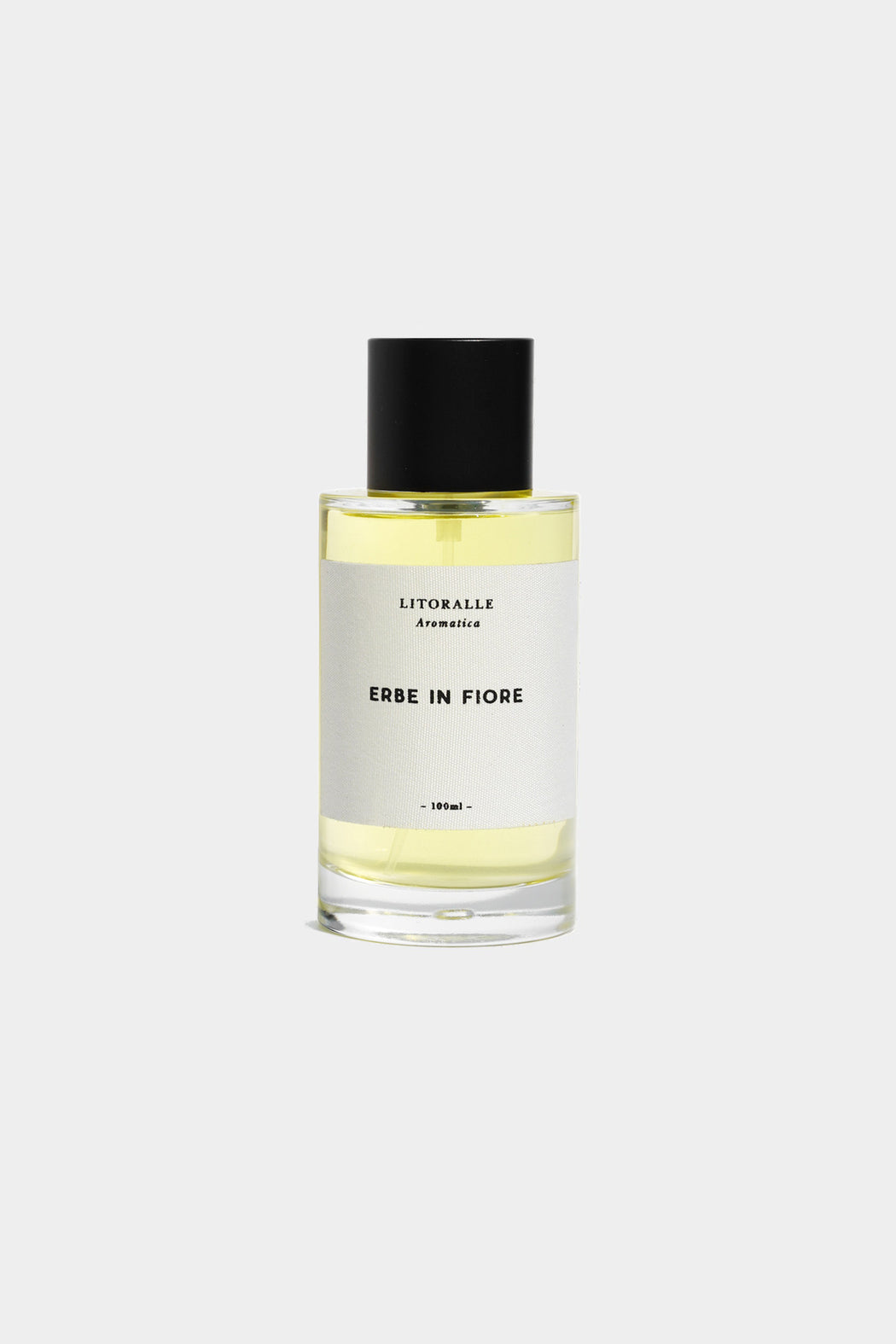 ERBE IN FIORE | 100ml
On a cool spring morning each year, the perfume of sun-warmed herbs emerges from winter dormancy and floats across Corsica's rugged hillsides towards the sea. Inspired by the island's wild botanicals, ERBE IN FIORE combines sparkling Mediterranean citrus, sweet basil, clary sage and lavender- an homage to this majestic island, a mountain in the sea.
Notes: yellow mandarin, neroli, basil, clary sage, rosemary, lavender, tomato leaf, amber
Eau de toilette 3.4 fl oz / 100 ml
We are a cruelty-free company and do not use animal products or test on animals. All products are made by hand in Los Angeles, California.
At Litoralle Aromatica our primary commitment is to consistently produce fragrances aligned with clean beauty practices. We oversee every aspect of the fragrance creation process, ensuring that our perfumes are only composed of the highest quality natural materials and aroma molecules. We ethically source all of our natural ingredients from specialized vendors who represent small farms from across the globe. We only use the purest aroma molecules to avoid utilizing traditionally animal-derived ingredients and over harvested endangered plants, ensuring that our product is vegan, cruelty-free, and environmentally conscious. Our hands on process guarantees that our fragrances are held to the highest clean standard.
We take pride in our production process where our small team in Los Angeles hand blends, compounds, and filters each micro-batch. Every single bottle of Litoralle Aromatica is hand filled, capped, and labelled. To lessen the impact of our carbon footprint we only source our recycled boxes and packing material from local vendors. We do not use any cellophane or environmentally hazardous materials in our production process or packaging. 
All Litoralle Aromatica scents are free of:
Parabens, Phthalates, Sulfates, Silicones, Formaldehyde, Butylated compounds, Aluminum, Triclosans, Phenoxyethanol, Hydroquinone, Talc, Coal Tar, Mineral oil, Acetone, Benzaldehyde, Benzyl Acetate, Benzyl Alchohol, Camphor, Ethyl Acetate, Methylene Chloride, Animal Fats, Animal Oils, Animal Musks, Benzalkonium Chloride, Benzophenone, Bisphenol A, Butoxyethanol, Ethylenediaminetetraacetic Acid, Ethanolamines, Methyl Cellosolce, Methylisothiazolinone, Mercury, Thimerosal, Resorcinol, Toluene and Polyethylene Glycol.
Some cloudiness or sediment may occur due to the high percentage of raw, natural extracts. Slight variations in color and scent may occur due to different crop seasons and harvests.
They are a cruelty-free company and do not use animal products or test on animals. All products are made by hand in Los Angeles, California.