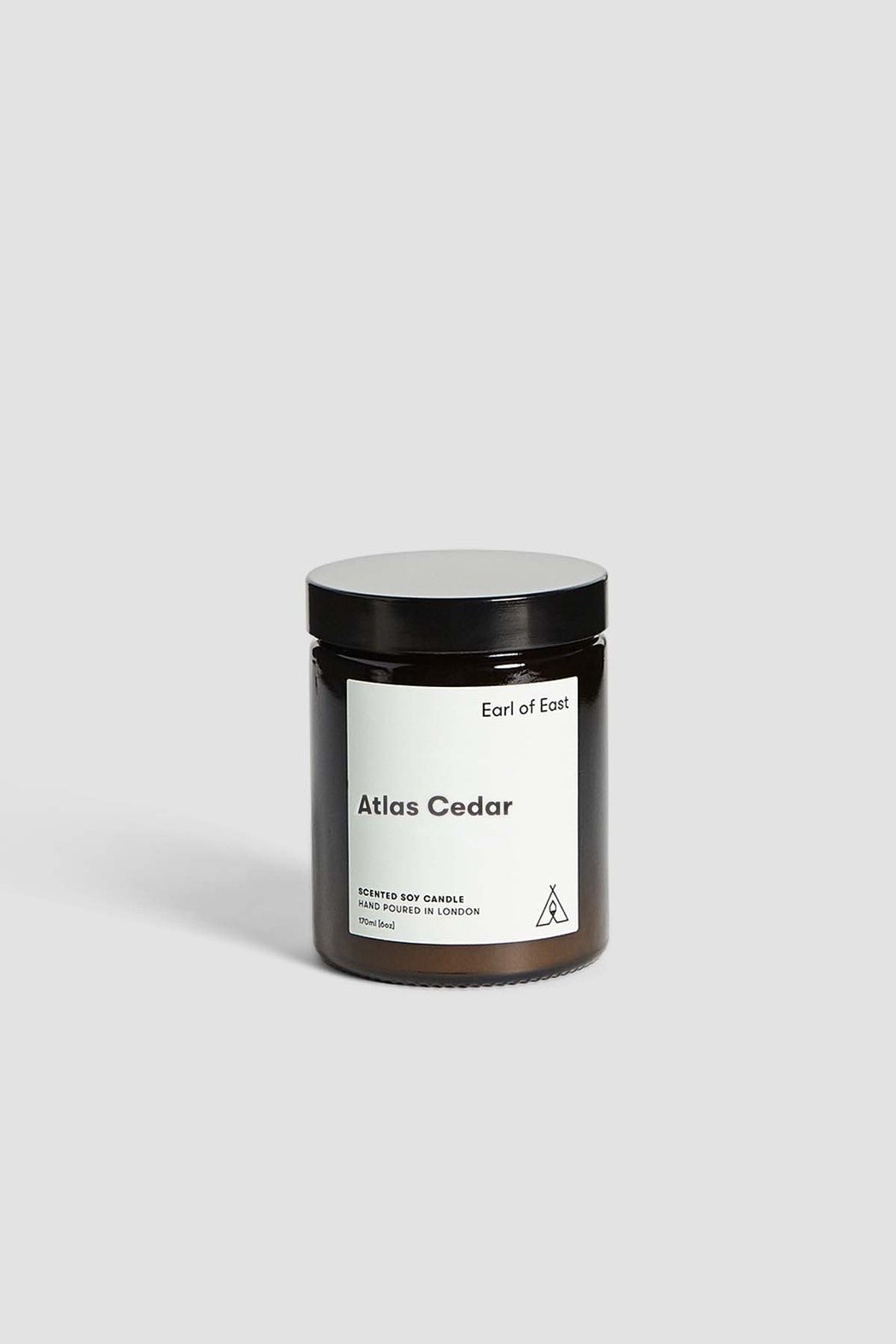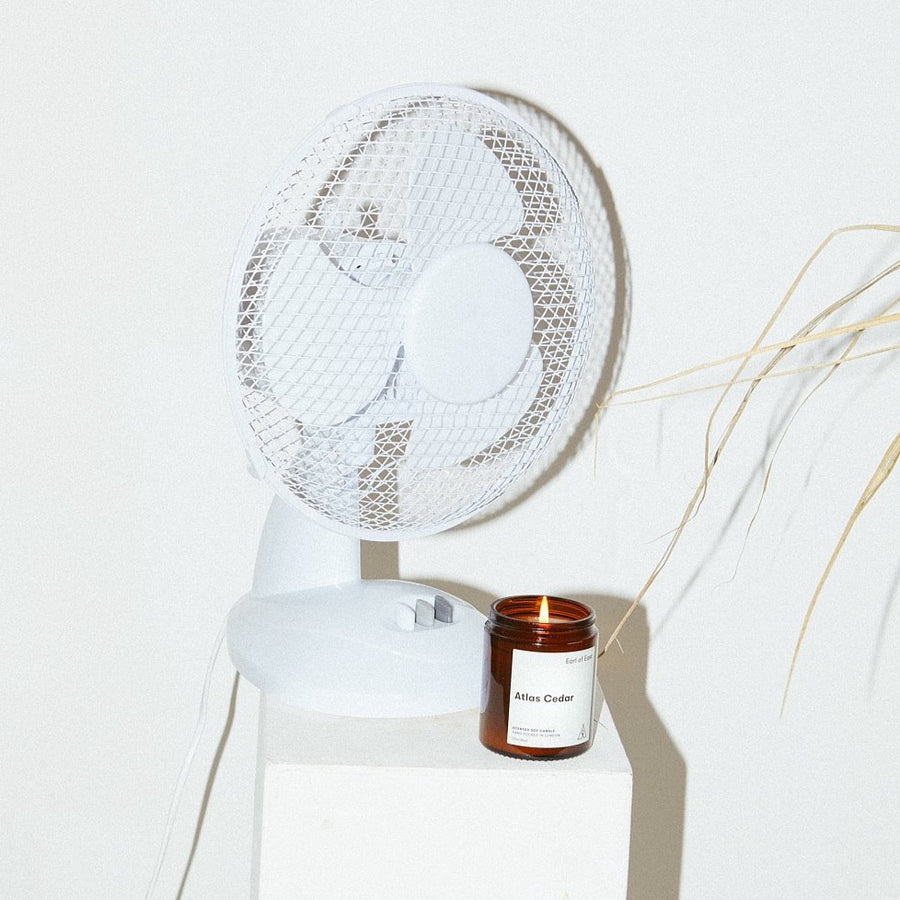 ATLAS CEDAR | SOY WAX CANDLE
Atlas Cedar Candle 170ml by Earl of East
Hand-poured in East London the Atlas Cedar scented candle is unexpected for something inspired by Morocco. Whilst you might envisage this to be spicy, its actually quite the opposite.
A bespoke blend of cedar wood, olive leaf and white musk this is an earthy scent that reminds us of the Atlas Mountains.
35 - 40 hours burning time.
SCENT STORY Upon a much-needed city escape in 2015 it was the calming crisp air of the Atlas Mountains and the artisanal Berber Villages that truly stole our hearts in Morocco.

A wonderful contrast to the liveliness of Marrakech, the peaceful air of the snow-capped mountains and flowing rivers encourage you to slow down and go with the flow, a trait that Moroccan people incorporate effortlessly into their lives.

Burning Atlas Cedar has become a ritual to unwind from the busy London life, to regain focus after a busy day. It is a deep breath, a pause in time. It is not surprising that it is one of your favourite scents when it comes to filling your homes and finding that sense of peace in your day.
Wax
Earl Of East candles are made using eco-soy (non-GMO) wax that is grown and harvested in the US, but manufactured in the UK. All of their candles are hand made by them in Hackney or in their pouring room at their Kings cross location. Vegetable soy wax has a lower melt point, therefore the candles burn slower and last longer. In addition, they are in a position to guarantee that all of their collaborators and suppliers of soy-wax elements are certified by the RSPO. They are committed to ensuring that their work does not contribute to deforestation and respects the rights of workers and indigenous people. Halal and kosher.
Wicks
The wicks are made from cotton and unbleached linen, dipped in vegetable wax. This means your candle shouldn't smoke or create a large flame, therefore better for the environment. The wicks and glue are manufactured in Germany. The cotton that we use complies with the Oetoex Standard 100, which regulates and tests fabrics for harmful substances.
Oils
Earl candles are scented with both essential oils and botanical oils. Essential oils are naturally derived, while botanical oils take the constituents of a plant and are mimicked by scientists in a lab. We wanted to create an affordable luxury for you, with a consistent scent all year round. Using a mixture of both botanical and essential oil allows us to do this. Oils are ethically sourced and fully traceable to origin.
All candles are Vegan, Phthalate and GMO free.
.......
CANDLE CARE 
When burning your scented candle for the first time allow the wax to melt all the way to the edge of the jar. This will ensure an even burn throughout the candle and will avoid what is known as tunnelling, where only part of the wax melts, creating a shorter burn life. Soy wax has a lower melting point than other waxes, thats why they throw the scent so well and last longer than others. It's not abnormal for all of the wax to melt but be careful not to knock the vessel to avoid any spillage - you don't want to waste any! 
Before each burn it is essential to ensure you have removed any unnecessary wick, trimming the wick to approximately 1/4 inch. This is really easy and can be done simply by pinching the burnt wick away with your fingers, before it is lit of course. This will also ensure the candle doesn't give off any nasty black smoke. 
When lighting the candle make sure that no wick trimmings or used matches are in the wax.
Always
burn your candle on an even and fire resistant surface and ensure that it is away from flammable items
....you know plants, magazines, books and fabrics. 
Never burn the candle for longer than 4 hours
at a time and when extinguishing the glass will be hot so please be careful. Never extinguish a candle with water, it can cause hot wax to splatter and might cause the glass container to break.
Extinguish the candle if it repeatedly smokes, flickers or if the flame becomes too high. If this occurs the candle isn't burning properly. Cool, trim the wick and then check for drafts before relighting.
When the candle wax is down to 1/2 inch please discontinue use, you can reuse the vessel as a plant holder or desk organiser should you so wish. 
Always burn your candle within sight, away from drafts and never leave it unattended. Please keep it out of reach of children and pets. 
Enjoy, with care....and if you need a reminder the label on the bottom of the jar will give you instructions.