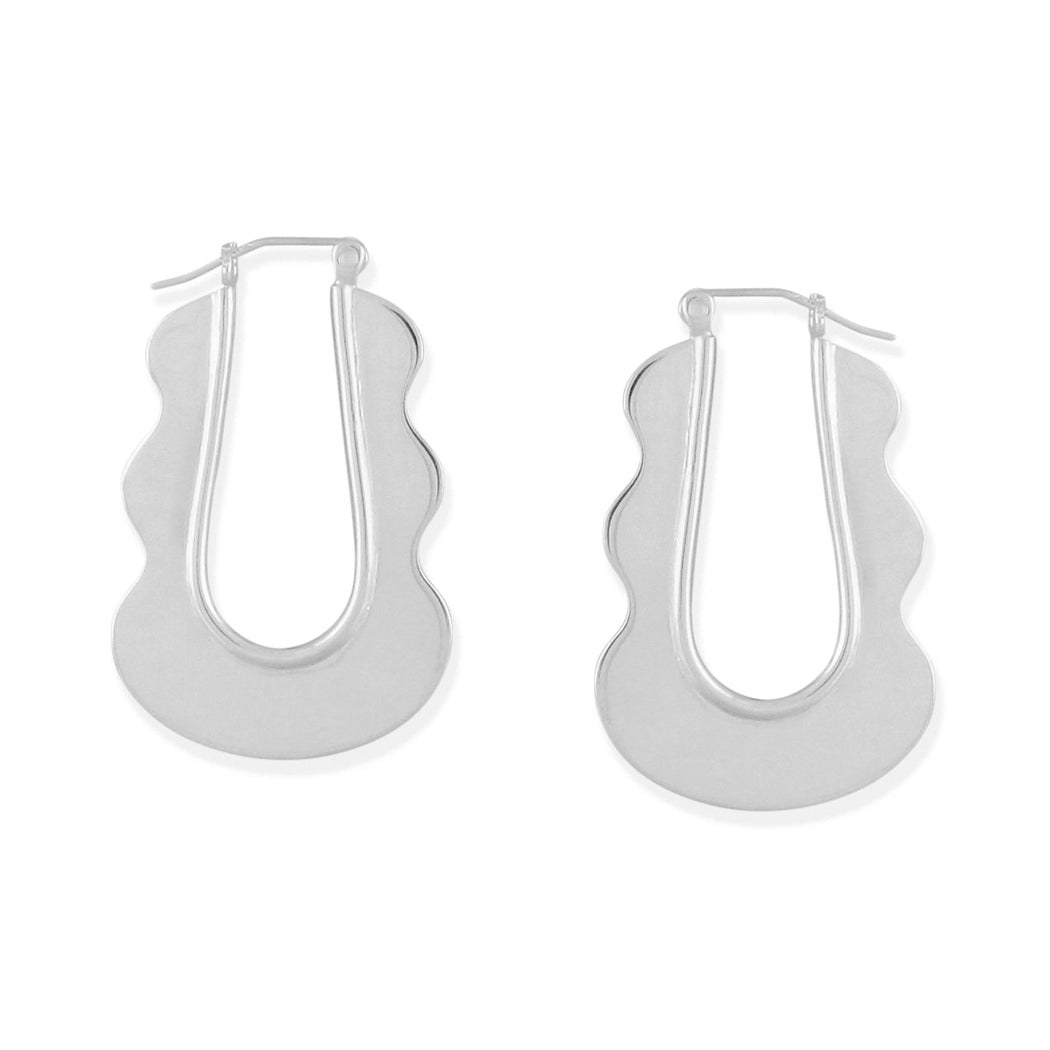 Mini Mirage Hoops | Silver
The perfect statement hoop earrings to have in your jewelry box! Drawing inspiration from Ettore Sottsass' iconic Ultrafragola mirror , these curvy, undulating hoops are hand cast from recycled metals and polished to mirror shine.
Sterling silver posts

Measures approximately 7/8" long
CARE
Pieces are made using sterling silver or brass, which are durable materials that can last a lifetime with proper care. These metals will develop a surface patina over time with exposure to oxygen and moisture. This is a natural process and there is nothing wrong with the piece if it darkens. Some wearers like the look that this brings but if you ever feel the pieces need some sprucing up while they are on the shelves or just want to get rid of a few finger prints, please use this professional polishing cloth. You can use it almost indefinitely and it will bring the pieces back to their original shine.
The below tips will help keep new Artifacts piece looking their best:
-Moisture and humidity accelerate the rate that jewelry will tarnish. Avoid getting lotions and perfumes on your jewelry and do not shower with your jewelry on.

-If you do get something harsh on your piece or the patina gets to a point that is not appealing to you, first clean the pieces with a dry soft cloth to remove any excess reidu. If the piece is very dirty, use warm water, gentle dish soap and a very soft toothbrush. Rinse the piece thoroughly and then dry completely.
-The best way to store your jewelry is in a pouch or airtight bag. Avoid storing your jewelry in the bathroom or other humid environments.
_________________________________
ABOUT THE BRAND
Artifacts is an independent jewelry line based in New York City by designer Casey Perez. Consciously designed and locally made, her line of modern, sculptural pieces aims to bring imaginative, artful design and sustainable craftsmanship together. Modern yet playful, Artifacts is a celebration of form that aims to bring inspiration and delight to the everyday.
HOW IT'S MADE
Believing in the value of good craftsmanship and creating a connection to the material, Casey designs and makes every piece in her Brooklyn studio. Designs are developed by hand utilizing a variety of traditional techniques such as lost-wax casting, hammering and forming which lends a personal touch to every piece. With local production and sustainability in mind, all pieces are cast locally in NYC by family run castors using recycled, conflict free metals. This also allows greater control over the quality and ensures the integrity of each and every piece. Pieces are made to order using zero to low waste processes to reduce environmental impact and avoid overproduction and waste. Leftover metal scraps are recycled or melted down to reuse in new designs.
ABOUT THE DESIGNER
Born and raised in Texas, Mexican-American designer Casey Perez found her way to jewelry unexpectedly. After moving to New York to study at NYU, she stumbled upon a metalsmithing course at her school where she learned centuries old jewelry making techniques to transform raw materials and bring her ideas to life. It was this alchemical process that immediately drew her to jewelry and inspired her to embark on a new path. Largely self-taught, Casey honed her skills through years of practice as well as working for companies like Pamela Love,Urban Outfitters and Madewell. Casey's love of art and design greatly informs her work, drawing inspiration from an artful lexicon of influences ranging from modernist architecture, the Bauhaus and Memphis movements, to Swedish minimalist furniture. The results are unique handcrafted pieces that are at once visual explorations and intimate expressions.