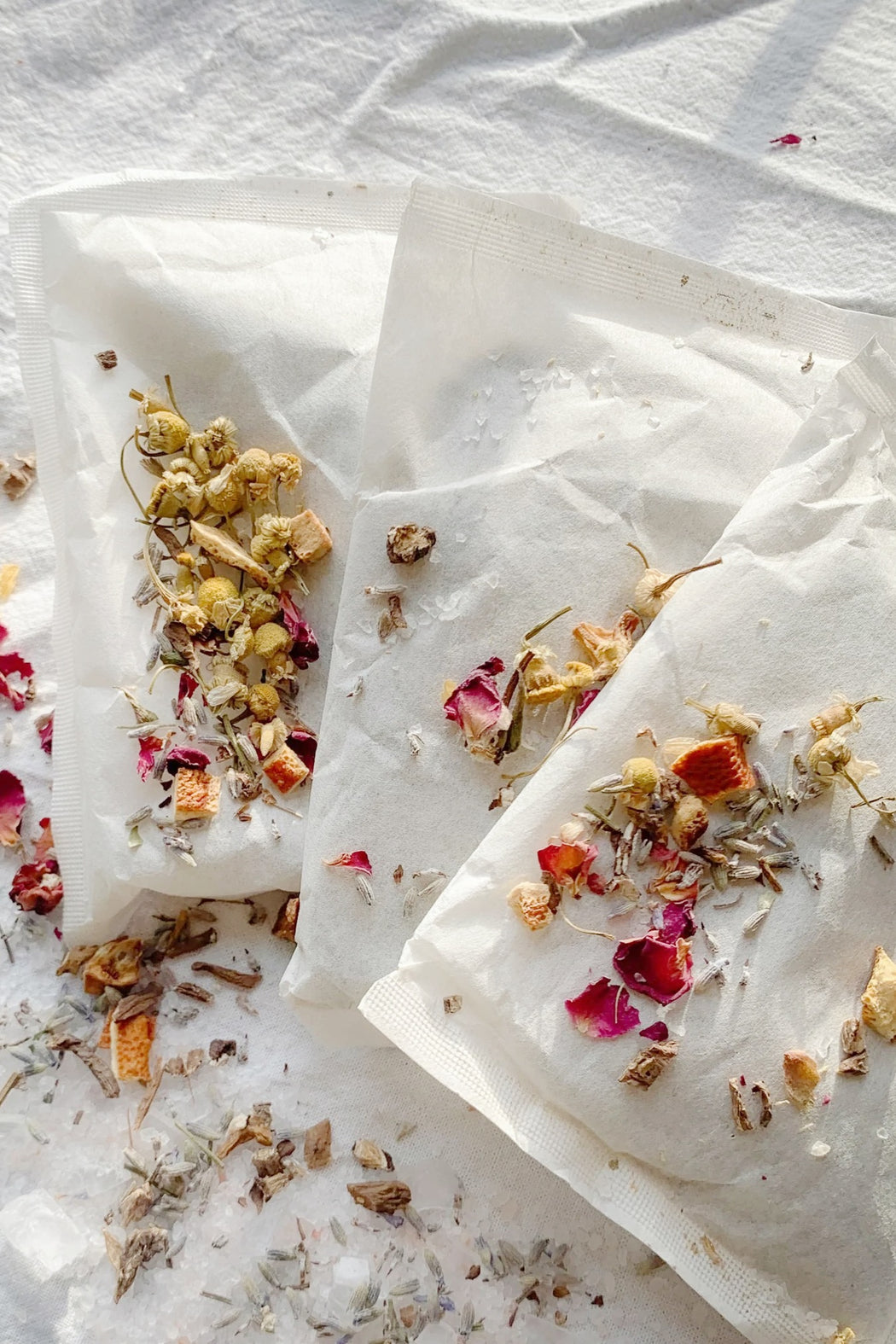 Field Flowers & Sea Salt Bath Soak
An organic herbal bath provides a relaxing and aromatic bath blend that's great for end of the day relaxation, and to help ease a tired and aching body.
This organic blend consists of coarse sea salt, orange peel, chamomile flowers, lavender, rosemary leaf, raspberry leaf, rosehips, peppermint, sage leaf, lemongrass, red rose buds and petals, bay leaf, and cloves. The bag itself is made with manila hemp fiber derived from the leaf stalks of the abacá plant, cellulose, and thermoplastic fibers, making it strong and durable. The paper is free of dyes, adhesive, and glue, and is oxygen-bleached (no chlorine used), therefore eliminating dioxins.
Pack of 3.
........
EVEN KEEL  En was born and raised in tropical Singapore, moved to New York in 2008 to study art and design, which led her down the path of working in the creative field ever since.
En started Even Keel as a self-funded, passion project with the initial idea of just handcrafting biodegradable bar soaps that were freshly infused with organic botanicals and a bar that is truly safe for the environment. Most of these bars are marketed to outdoor enthusiasts and she wanted to bridge the gap between form and function – Why only limit these bars for the outdoors? Shouldn't ALL soap be this way? She started going through my self-care products, and realized she could apply this school of thought to many of the items I use on a daily basis – Where they focus on the aesthetics of the product without compromising on our promise towards a truly natural, non-toxic, and synthetic-free ingredient list.
Through the years, En based all of her decisions on these core values when designing and formulating the collection. With the help of the team, all of Even Keel's products are handcrafted and they personally source, make and package every item from the studio to you.
Learn more about their studio practices here .